Thanks for all coming along to our Van Society Top Gear Class war Muscle event. We had a varied selection of cars to put to the test to find 'Best in Class'.
The Cars
Catman –  Vigero $21,000
Chubb – Vamos $596,000
Dave – Burgershot $Stallion 277,000
DoubleG – Redwood Gauntlet $230,000
Mulder – Ruiner $10,000
OneMark – Blade $160,000
Paulie – Deviant $512,000
Salad – Pheonix $20,000
Stappo – Sabre Turbo $15,000
Trashy – Gauntlet $32,000
All cars were handicapped according to price with Mulder's Ruiner having the lowest handicap of -10pts and Chubb's Vamos having the highest handicap of -596pts due to their respective prices.
Trashbag's Gauntlet picked up some early points winning the vote for the best looking stock car before we jumped into a series of tests for handling, acceleration, top speed, braking and off road handling in our stock cars.
Testing
Looks – Gauntlet
Test Track – Burgershot Stallion
Acceleration – Ruiner
Wheelie – Blade
Brakes – Redwood Gauntlet
Top Speed – Ruiner
Off-Road – Ruiner
Once we finished testing we moved on to some racing but not before we pimped our rides, with Paulie picking up the points with his sexy Deviant.
Results
The Ruiner mopped up on the night despite being penalised 100pts for such an awful paint job, well done to Mulder for picking the winning car. It could have been Marc with the winning car but he missed out on the Ruiner by 7 mins thanks to Stappen being a bit slow with PSN messenger.
The Stig award goes to DoubleG for winning the racing playlist, well done G.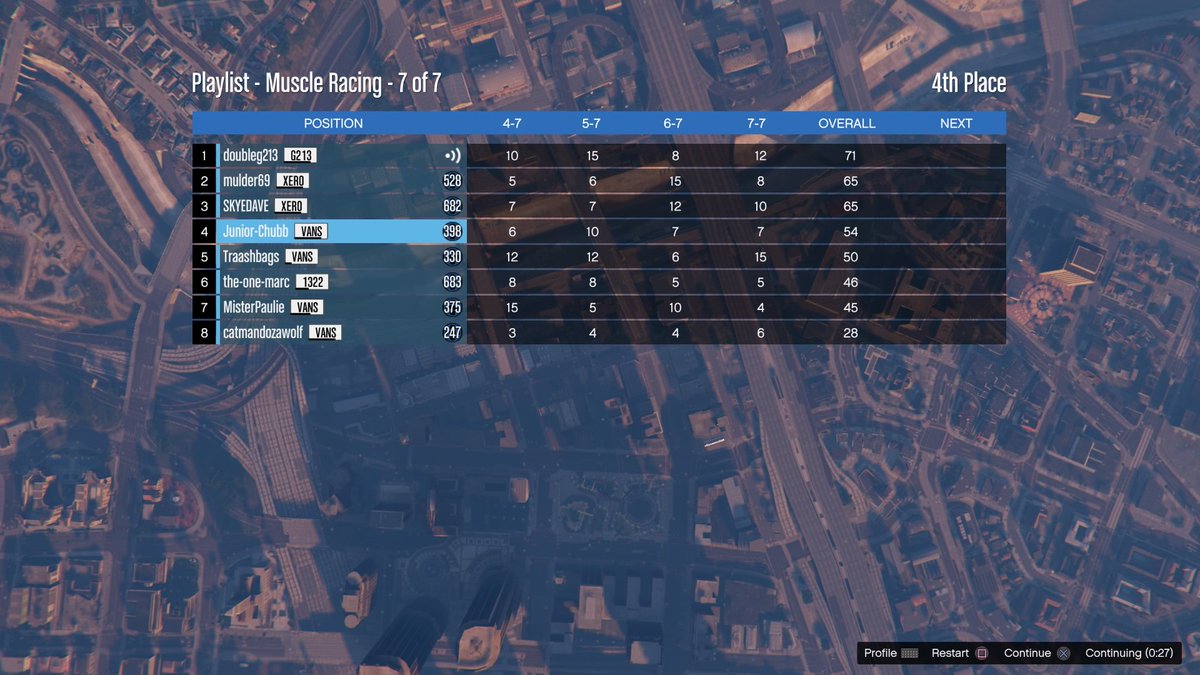 Thanks to all who turned out, was great to run a full on Top Gear again.
For those who spotted it, I omitted the Mile test from the result as it just almost mirrored the Top Speed test.